Storage Units of All Sizes, For Every Need
---
LOCALLY OWNED AND OPERATED SINCE 1990
BEST MONTHLY PRICES IN METAIRIE GUARANTEED *
1 MONTH FREE:  ANY SECOND FLOOR UNIT **
---
*We will beat any advertised rate in the Metairie area for a comparable sized unit. New customers only.
**Offer good through end of current month.  Only a $25 Refundable deposit is required at move in. New customers only.
Our Services
We specialize in low cost non-climate controlled, easy-to-access storage units of all sizes.
Our facility is fenced and protected by a monitored alarm system and 24 hr surveillance via multiple security cameras.
Your unit can be accessed from 6:30am to 9:30pm 7 days a week including holidays.
All of our storage units include a 12-MONTH RATE LOCK to provide you with comfort and control over the cost of your storage.
We offer month-to-month contracts and will pro-rate your first month.
---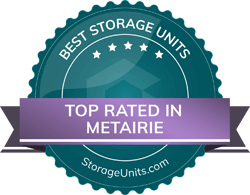 Storage Units
| Size | Price | Location/Type |
| --- | --- | --- |
| 5' x 5' | $20 | 2nd floor |
| 5' x 8' | $40 | 2nd floor |
| 5' x 12' | $60 | 2nd floor |
| 8.5' x 12' | $90 | 2nd floor |
| 14' x 23' | $150 | 2nd floor |
| 5' X 15' | $100 | Ground floor - drive up |
| 10' x 15' | $170 | Ground floor - drive up |
| 14' x 15' | $190 | Ground floor - drive up |
---